If you've taken any kind of art class, whether it be studio art when you were 12 years old or "Art Appreciation 101" in university, you've definitely, without a doubt, heard of the French Impressionists.   I don't even want to know how many times I've sat through lessons about how urbanisation, industrialisation, photography, leisure time, democratization of society, Orientalism, and of course, a desire to break the traditional rules of Fine Art all came together to create probably the most widely-known art movement of all time.  Don't get me wrong, I adore this kind of art;  In fact, these are my favorite types of paintings to see in museums and galleries; Musée D'orsay will always be my favorite.  However, sometimes it's nice to learn something new, to see a fresh side of an otherwise over-exhausted subject.
That's why I was so pleasantly surprised to hear of an American Impressionist exhibition at Giverny's Musée des Impressionnismes (You can see my trip to Monet's garden at Giverny here).  When do you ever hear names like Cecilia Beaux,  William Merritt Chase, Childe Hassam, or John Henry Twachtman?  I spent  years of my life studying these things and never once heard their names, but I like to think that I'm continuing my education on my own.  You don't ever have to stop learning , thinking, and improving.
One artist that really stood out to me at this exhibition was John Henry Twachtman.  They had mainly his winter scenes, which at first glance appeared as dull, muddy canvases, but once I stopped for a few more seconds, I realised how beautifully stubtle the colours were.  Once I researched him on the internet at home, I realised that he actually was not afraid of color, as you will see in the canvases below, and the basis on which I selected these works.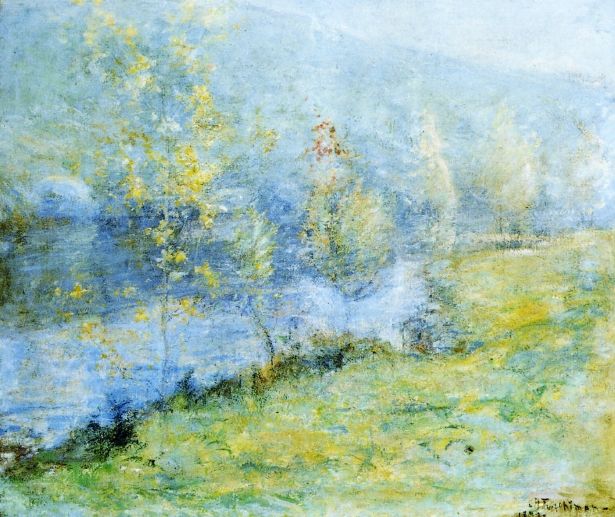 What always draws me into a painting are the colours.  It always fascinates me to find that shadows aren't gray – they're actually lavender, violet, deep turquoise, sea green, and cerulean blue; And highlights aren't just white – they're soft creams, tinted grays, feathery blues, and pastel pinks.  Once you're able to see that whites aren't really white, and blacks aren't actually black, art really transforms, and you may even start to see the variation in color and light in your daily life.
The other thing that really gets me, is the atmosphere Twachtman is able to create.  You can almost feel the morning fog over the river in the picture above, and the wintery chill in the air below.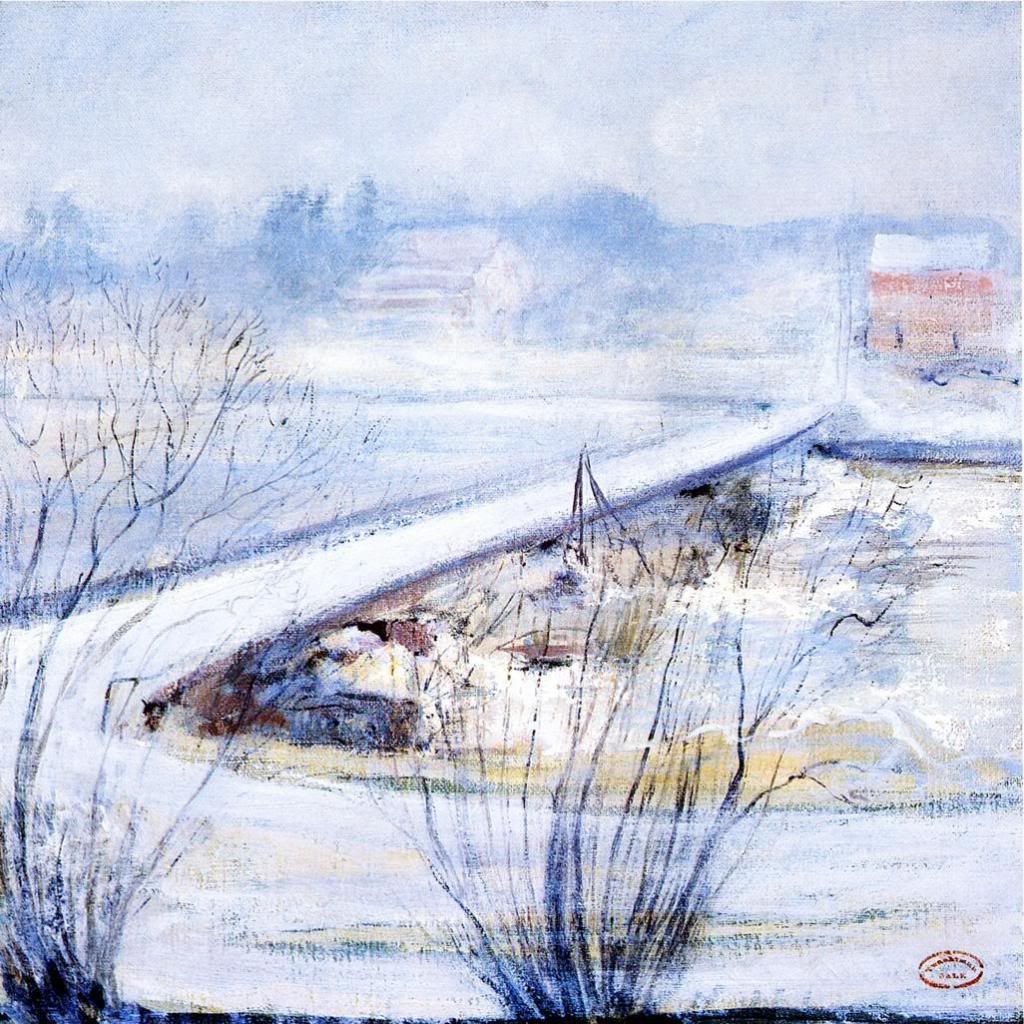 These other ones I simply chose because of their beautiful colours.  Can you see the rainbow colours in the snow of the last image??  It's so cool!! Or is it just me who thinks that's amazing? :)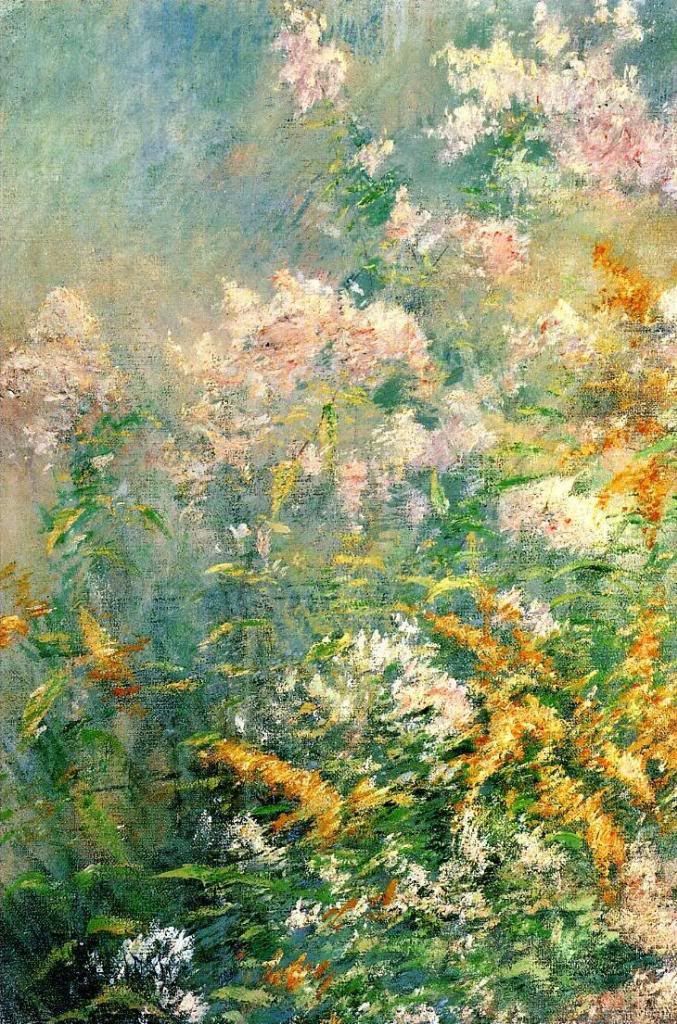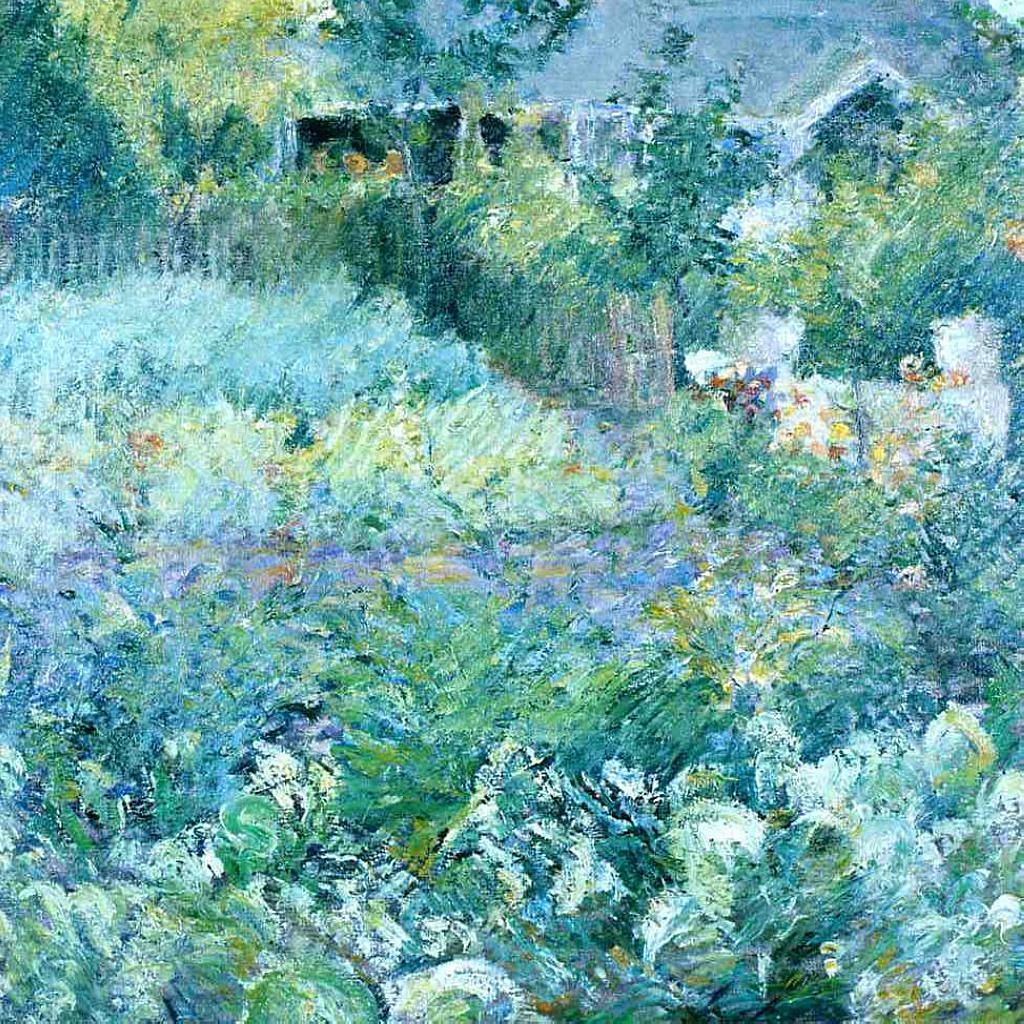 I would really love to make this into a series, Art Lessons.  I have one more planned about Impressionists you've never heard of.  What do you think of this Art History series?  Would you read it?  Honest opinions please!