Today, I'm bringing you a quick outfit-of-the-day. I don't do these very often, partly because it's a tiny bit out of my comfort zone, but also because my wardrobe is relatively minimal at the moment, since I moved to France with only 1.5 suitcases in tow. I was looking back on my outfit posts within the last few months, and I realised they all look the same: Black, gray, and my one colour of choice, burgundy. Although I completely believe in the idea of a "capsule" wardrobe, where the mixing-and-matching possibilities are endless, it doesn't make for the most varied outfit posts.
With warmer weather around the corner, and skinny jeans becoming less of a prevalent trend, I decided to add some lighter pieces into my wardrobe, and this lace dress is one of them. I also got some loose-fitting trousers that are basically constructed like pajama pants, a peach coloured blouse, and a floral kimono. I really feel like just these few pieces transform my wardrobe!
Originally, this white dress was going to be the dress I wore for our elopement to NYC, but I just couldn't bring myself to get married in a dress that cost 12 euro from Forever21, which is why I eventually found a better quality dress for the special day!
I paired this dress with my burgundy (once again) moto jacket from Target. I think dresses that are fitted at the waist look best with a shorter-length top layer. It was a sunny, yet crisp spring day, so I kept my legs bare but bundled up my neck with a super fuzzy scarf from Zara. It really felt strange to have my legs free, as I've been wearing black pants as a staple for months upon months upon months!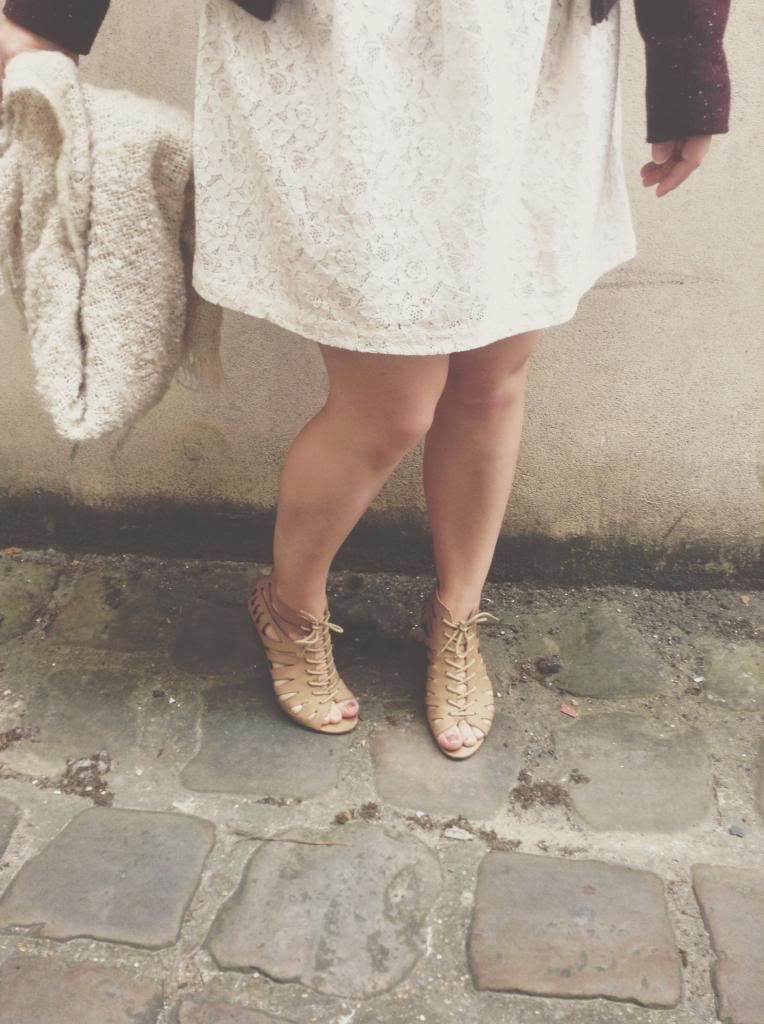 Outfit Details
Dress: Forever21
Jacket: Target
Shoes: Forever 21
Scarf: Zara
I'm adding another element to the typical OOTD, and showing you my FACE of the day, inspired by those beauty bloggers out there! I was feeling very peachy today, so I used some warm, luminescent blush, a rose-gold eyeshadow, coral lip butter, and natural-looking foundation, so that my nose freckles showed through.


Foundation: Dior Forever
Blush: Benefit blush in Sugarbomb
Eyeshadow: Rimmell Glam'eyes in 019 Sun Safari
Lips: Revlon Colorburst Lip Butter in 015 Tutti Frutti
I often find myself thinking about what focus I want this blog to take and even the level of dedication I'm willing to make. I really don't foresee me creating many outfit or beauty posts, but I think they provide a bit of a personal touch to my blog, so I think I'll continue to do them… once a month perhaps? I much more enjoy writing about my experiences, travels, thoughts, and artists I find across the internet. Who knows, that may change in the future, but I like that I have the freedom to make this internet space whatever fits me best. :) I would absolutely love to start a YouTube channel as well! I see these YouTubers and Bloggers out there who are super successful, and make a career out of this, and I would absolutely love to do what they do. I just don't see how it could happen. I suppose it comes in small steps… but that's probably better saved for a separate post!
Until next time.