The 10th Arrondissement has long been a forgotten neighbourhood of Paris, overshadowed by the romance of Montmartre above, and the cool vibe of the Marais below. Although it has always boasted the Canal Saint Martin, a favorite summertime picnic spot of young hip thangs from that side of town, the rest of the surrounding streets are home to multicultural establishments: African, Indian, East European, Turkish, Italian, Asian, and probably any other non-French influence you can think of has staked a claim here.
Over the past few years, the 10th has become increasingly more gentrified, and although I dislike this word and phenomenon for many reasons, you can't deny the perks that come with such an economic shift. Now bear with me, I have zero actual knowledge of economic systems, but here are my thoughts: On one hand, property values increase, driving the poorer community out, bringing in more tourists, and eventually spoiling what had made the area charming in the first place. I don't believe this has happened yet – the neighbourhood does not bring in a ton of tourists, but I will say it attracts a lot of young foreign residents. Lots of international students, bloggers, and people who work in the arts, and those are my kind of people!
One of the best results of this transformation of the 10th is the birth of new restaurants. I decided to try a few to see what the fuss was all about. What they all have in common is intimacy, good service, quality ingredients, and simple, yet cool interior design. The facades rarely have signage and look unassuming from the outside, the dining rooms are small and often have communal seating, the waiters are actually kind, helpful, and willing to speak English, unlike most traditional French establishments, and the food is usually organic, in season, unique, and health-conscious. The experiences I've had thus far have been extremely positive! Let me tell you about a few restaurants I've visited.
First, is Holy Belly, known for its changing, monthly menu and seasonal ingredients. They even stock microbrews that are made in France. I've heard that microbreweries are quite commonplace in the north of France, and I think it's time to bring that tradition down to Paris! I'm not a huge beer drinker, but I love the idea of supporting small producers.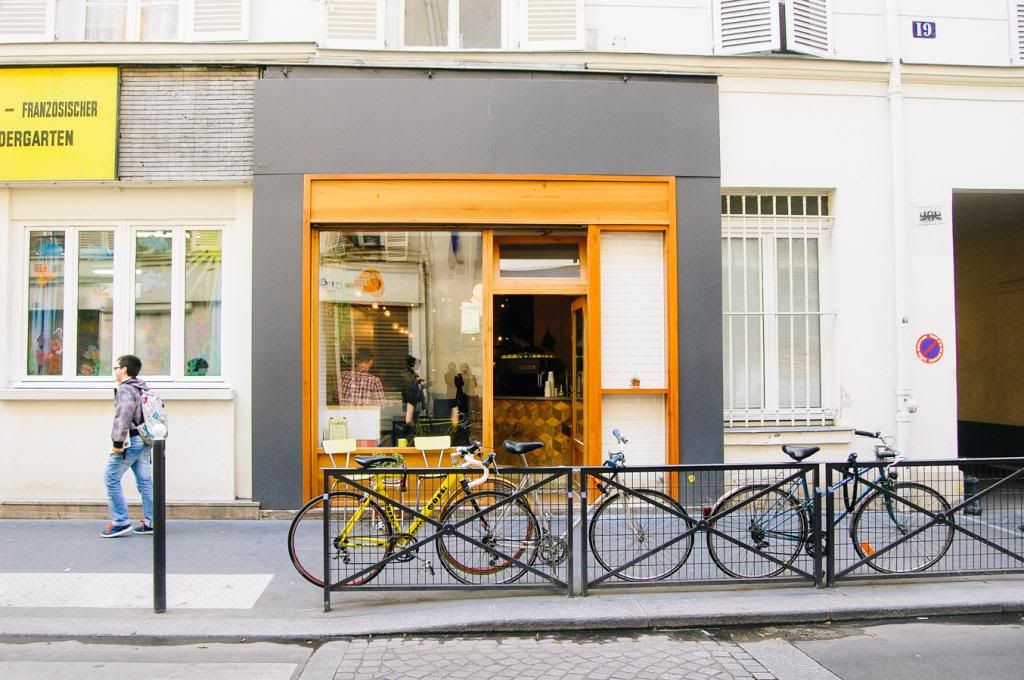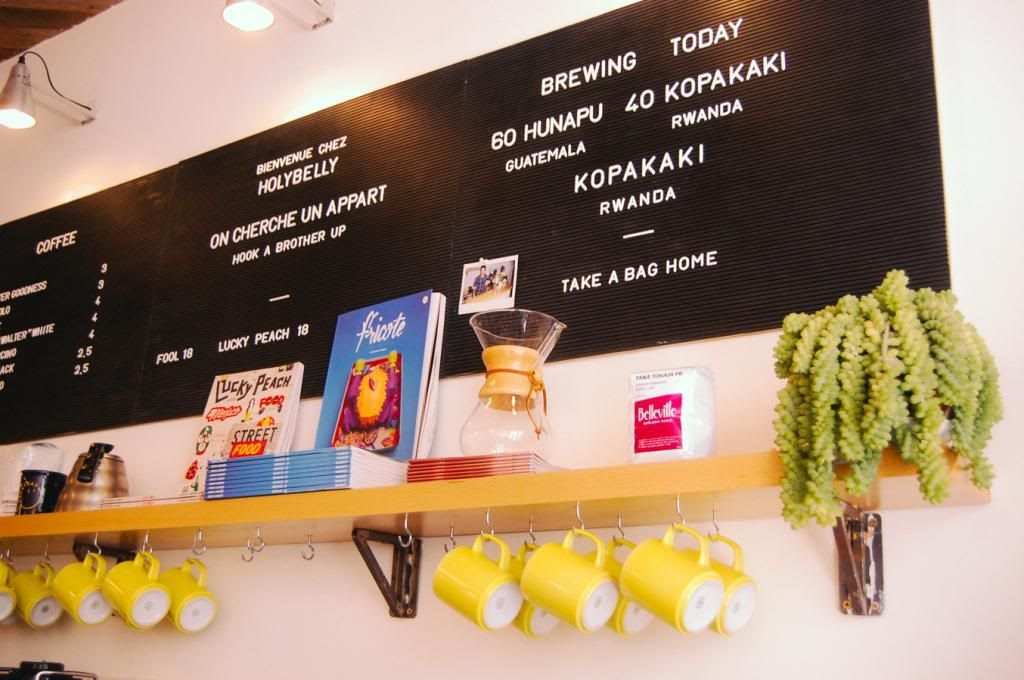 Holy Belly has vegetarian options, but I had a dish with lamb curry and salad, as well as a cappuccino, which was top-notch quality. And can we all take a small moment to appreciate the text on the sign above that reads, "hook a brother up."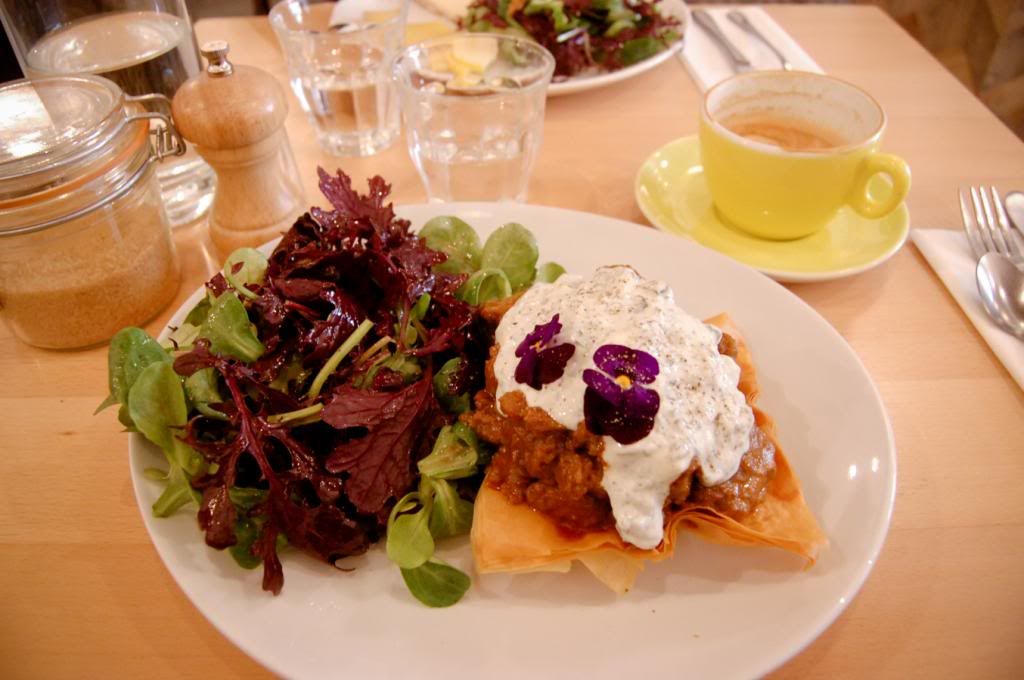 The service is outstanding, the servers smiling as they bring your food. This kind of simple kindness is so refreshing in Paris! I hope it becomes a trend outside of this neighbourhood, although I highly doubt it will, since French servers don't rely on tips like they do in America.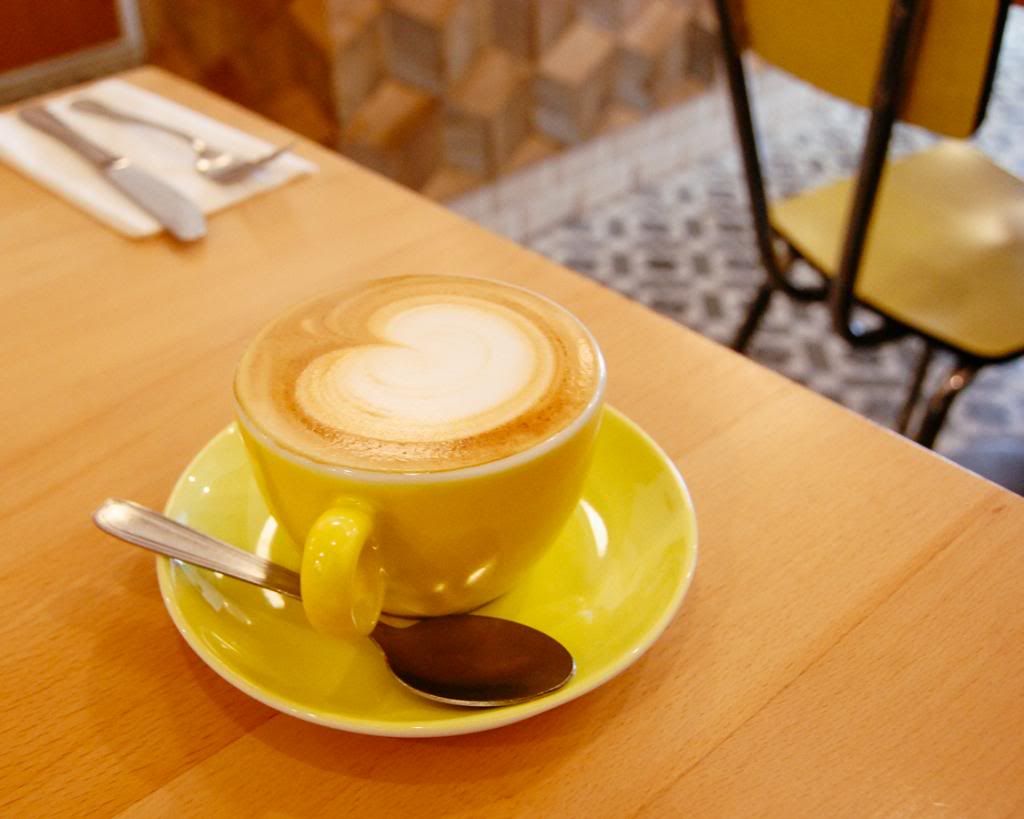 Next, is an English fish n' chips joint cleverly called The Sunken Chip – see what they did there?? It's more of a takeaway/fast food environment, but that doesn't mean their floors are dirty or service brusque. The man who helped us was super nice, the white subway tile lining the entire place was sparkling and bright, and the menu was straightforward and easy to understand.


I went for a cream soda with my fish, and asked for a side of tartar sauce, since I wasn't familiar with mushy peas, a staple of the English variety of this dish. I've only ever had California-style fish n' chips, which generally consists of thinner fish strips and tartar sauce as an absolute necessity (often accompanied with some white clam chowder, yum). I really enjoyed this meal though, despite the subtle cultural differences.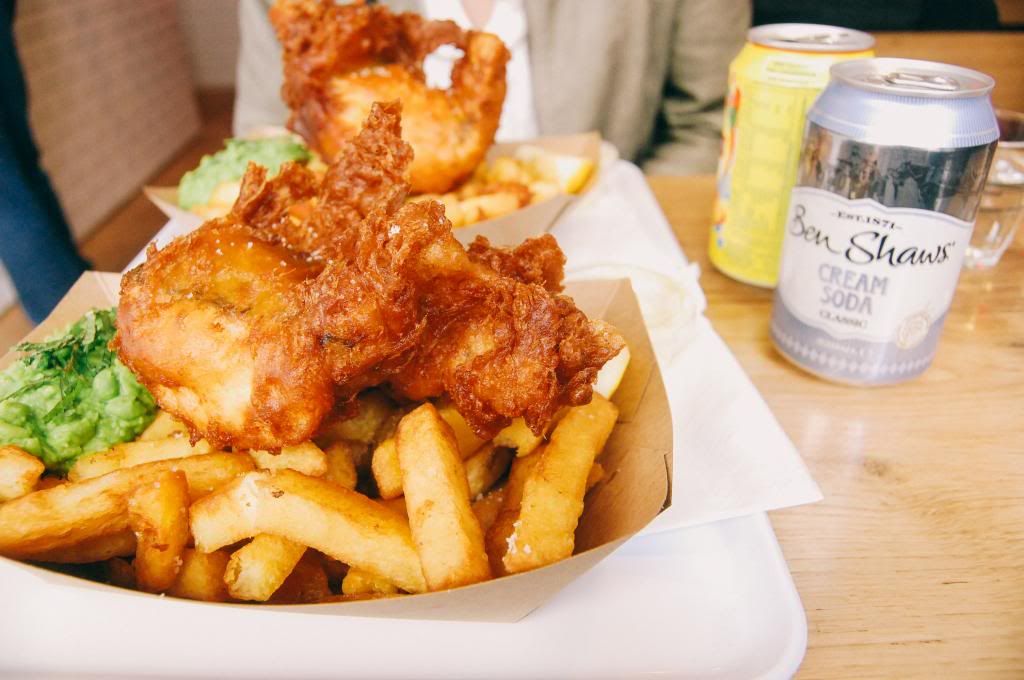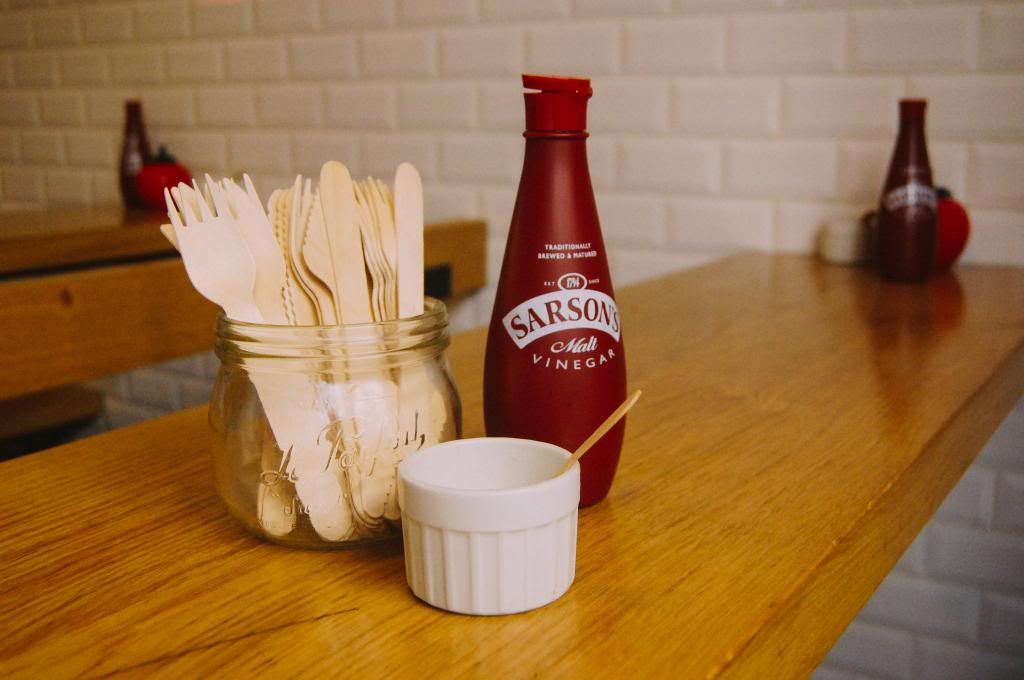 Another establishment that I would like to mention is the Bakery that resides next door to the Sunken Chip. It's called Liberté, and they had one of the best coffee cream puffs I've ever had. Their spread wasn't typically French – it had a slight variations on the normal staples, and a few additions I've never seen before. Not to mention the place is aesthetically pleasing. Marble and glass counter, patterned tile, rough loft-like walls, and floor-to-ceiling windows that open like shutters. Yes, just yes.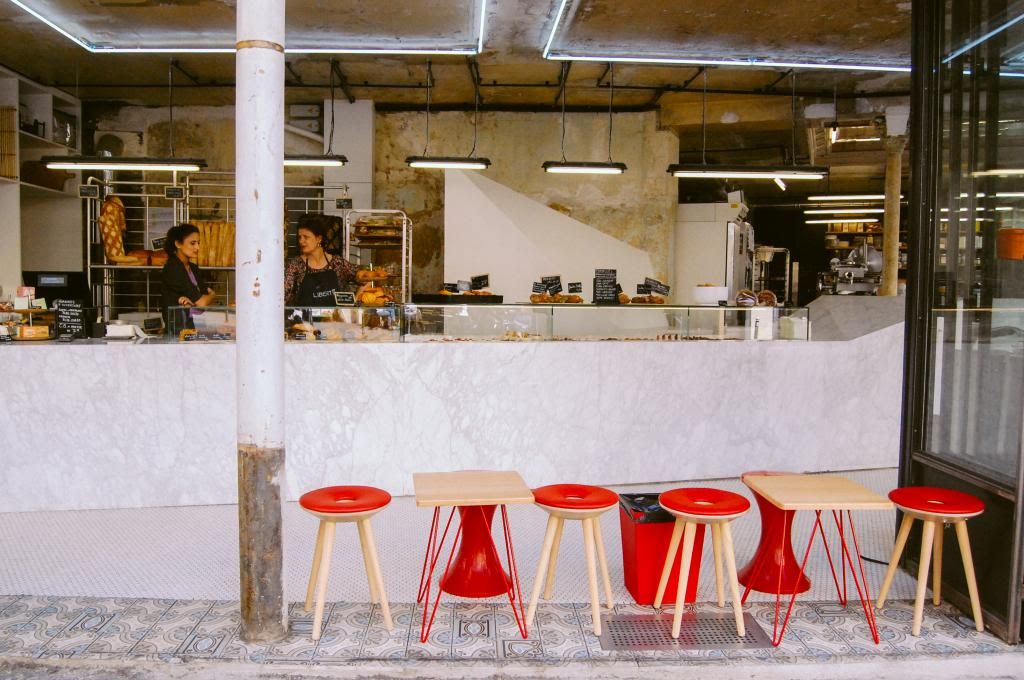 There are some other places I want to visit soon, and most of them are on Rue des Vinaigriers, or very close by. There's a vegan hippie restaurant and epicerie that sells raw cacao and aloe vera branches, and a build-your-own Korean stir-fry café, as well as a handful of coffee shops that actually take pride in the quality of their coffee, which is surpassingly hard to come by in Paris.
Here are the places I mentioned, plus more:
Holy Belly
19 Rue Lucien Sampaix
metro Jacques Bonsergent
The Sunken Chip
39 Rue des Vinaigriers
CONTACT@THESUNKENCHIP
Boulangerie – Liberté par Benoît Castel
Patisserie
39 rue des Vinaigriers, 75010 Paris
Sol Semilla – Vegan Restaurant and Épicerie
23 rue des vinaigriers
Ten Belles – Awesome coffee shop
10 Rue de la Grange aux Belles
Jules et Shim – Korean stir-fry
22 rue des Vinaigriers
If you've been to any of these places, tell me if you liked them! And up next here on the blog is either an Art History post, or pictures of my random walks through Paris.